Pro Evolution Soccer 3
Pro Evolution Soccer 3
Platform(s)
Microsoft Windows, PlayStation 2
Release date
2003 (Japan)
24 October 2003 (North America)
17 October 2003 (EU)
Mode(s)
Single-player, multiplayer
Rating(s)
PEGI: 3+
Media
DVD
Latest PES 3 Forum Posts
Pro Evolution Soccer 3 (shortened to PES3 on occasions. also known as Winning Eleven 7 in Japan) is a football game developed by Konami and is exclusive to the PS2. The game was released in 2003 and features Italian referee Pierluigi Collina although he actually does not feature in the game itself. This part of the series is when Pro Evolution became a major threat towards FIFA and the game has now continued from there.
With Japan being licensed from last time, South Korea followed suit and the game also had club teams licensed for the first time with AC Milan, AS Roma, Lazio, Juventus, Parma and Feyenoord. Players also had preset faces which made them look much more life like, and the Dutch team were given false names rather than Oranges.
[edit]
Licensed Teams
[edit]
National Teams
[edit]
Stadiums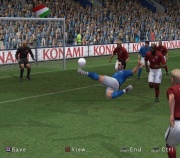 Related Threads
Kitserver 6.3.3 + 6.3.6 Released!
- last post by
@ Jun 1, 2007
3-2-3-2 formation
- last post @ Jan 8, 2015
Your Thoughts,Experience and Advice for 3-4-3 C
- last post by
@ Mar 7, 2015
Best formation against 3-4-3 c formation
- last post by
@ Oct 28, 2015
Day 3
- last post by
@ Oct 15, 2002