Pro Evolution Soccer 4
Pro Evolution Soccer 4
Platform(s)
Microsoft Windows, PlayStation 2, Xbox
Release date
5 August 2004

Mode(s)
Single-player, multiplayer
Rating(s)
PEGI: 3+
Media
Optical disc
Latest PES 4 Forum Posts
Pro Evolution Soccer 4 (or PES4 for short. also known as Winning Eleven 8 in Japan) is a football game developed for consoles such as the PS2 and Xbox by Konami. The Game was released in 2004. The box art for PES4, like PES3, displays an image of then referee Pierluigi Collina, despite the fact that he does not appear in the game. Francesco Totti and Thierry Henry also appear on the cover. PES4 was the first of the Pro Evolution Soccer series to support online play but only on the Xbox. It was the first game to have licensed leagues with Serie A, Eredivisie and La Liga.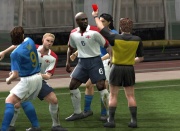 [edit]
Leagues
This section will tell you the current licensings in PES 4.
[edit]
Fully Licensed Leagues
[edit]
Partially Licensed or Unlicensed Leagues
[edit]
Other Teams
[edit]
Stadiums
[edit]
Referee
[edit]
Commentary
ROTEIRO
PELIAS
FINALE
SY1
SY2
[edit]
PES Shop
PES Shop is a mode part of PES 4 where you're able to unlock new content.
Original dribble Challenge (Unlocks training challenge) - 500
Training ground (Unlocks extra Stadium for training) - 500
Exhibition Stadium (Unlock new stadium in Exhibition) - 500
New Stadium (Unlocks new stadium) - 2000
Ball Type (unlocks Ball Selection in general setting) - 3000
Ball Effect (Enables to apply effect on ball during replays) - 500
Six stars (Unlocks hardest COM level) - 1500
Double speed match (Unlocks new option for game speed) - 2000
Camera type <Player> (Unlocks new camera angle) - 1500
Camera type <Bird's-eye> (Unlocks new camera angle) - 500
BGM (Listen to background music at any time) - 100
View stadiums (View stadium will be added to museum) - 100
Teams (adds a team) - 1000
Players (adds a player) - 150
Edit Appearance <hair style> (Unlocks extra hairstyle to Edit ) - 3000
Edit Appearance <Goal Celebration> (Unlocks new goal celebration to Edit ) - 3000
ML league composition (Enables changing team combination In Master league) - 2000
ML starting points (Enables changing initial team points in Master League) - 10,000
Related Threads
4-2-4
- last post by
@ Aug 26, 2003
Pro Evolution 4 Tournaments
- last post by
@ Jan 21, 2005
Coca Cola Championship Patch 4.0
- last post by
@ Sep 11, 2006
Pro Evolution Soccer 4 Goes Online?
- last post by
@ Sep 3, 2004
Defenders - Top 4
- last post by
@ Feb 9, 2004