Pro Evolution Soccer 6
Pro Evolution Soccer 6
Platform(s)
Microsoft Windows, PlayStation 2, PlayStation Portable, Nintendo DS, Xbox, Xbox 360
Release date (EU)
October 27, 2006 (PS3/360/PC/DS/PS2)
December 1, 2007 (PSP)
Mode(s)
Single-player, multiplayer
Rating(s)
PEGI: 3+
Media
DVD, UMD, DS Card
Latest PES 6 Forum Posts
Pro Evolution Soccer 6 (also known as Winning Eleven 10 and Winning Eleven X for Xbox 360 in Japan, Winning Eleven: Pro Evolution Soccer 2007 in the United States or PES 6 [as it's commonly abbreviated to]) is sixth installment of series and the last PES Series to be release on Gamecube, Xbox as well as the last PES Series to use number moniker.
It is the first PES game to be released for Xbox 360 and ultilize New Generation graphics improvement. The edit mode and gameplay we're stripped down. These version does not ultilize on PC and it will be again conversed into PS2 Version of the game.
Many gamers thought PES6 was almost identical to it's predecessor, although others look back and remember it as one of the best PES games as it combines the fluid arcade-like gameplay of PES 4, with the slower and more realistic gameplay of PES 5. The game was criticised for removing the ability of combining elements of home and away kits before a match, not being able to create colour logos in Edit Mode, only being able to use a white stripy ball in the snow, the opponents being able to organise a wall before taking a "quick" free kick and removing all but one team from the Bundesliga. The PES6 PS2 forum was one of the largest on Neoseeker during 2006 and 2007.
The cover featured John Terry and Adriano.
[edit]
Licensing
[edit]
Fully Licensed Leagues
[edit]
Partially Licensed leagues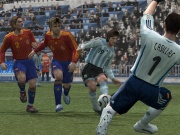 [edit]
Other National Teams
In International Challenge mode, along with the playable National teams, others were included, like Bolivia, North Korea and Bosnia & Herzegovina, with many others. They all had fake player names, except Israel and Cyprus.
Related Threads
Kitserver 6.3.3 + 6.3.6 Released!
- last post by
@ Jun 1, 2007
Pro Evolution Soccer 6 PES 6 PC
- last post by
@ Aug 28, 2007
PES 6 PS3 before August 2007
- last post by
@ Aug 30, 2006
Pes manager is 6 months old
- last post by
@ Nov 20, 2014
OF for ORIGINAL PES 6 (PC)
- last post by
@ Oct 31, 2013