Ruud Gullit
Ruud Gullit
Name
Brian Gullit
PES Age
26
Nation
Classic Netherlands
Position
AMF, CMF, SMF, SS, WF, CF
Year Professionally Retired
1998
Key stats
Attack - 94
Body Balance - 94
Long Pass Speed - 94
Ruud Gullit (pronounced HULL-it where 'hull' rhymes with 'pull') is a Dutch former footballer of Surinamese origin playing for the Classic Netherlands team.
His main strength in the PES series is his versatility which allows him to play anywhere in the centre of the pitch. He is known as Gulaas in PES 2009 because of licensing issues. He can only be unlocked when winning the World Cup with Holland.
[edit]
Real Life
In his career he played for many great clubs such as AC Milan, Chelsea and PSV.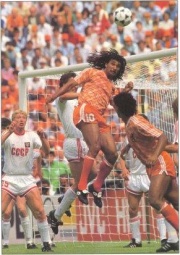 Last
edited
by 5.81.109.125 on 17 September 2016 at 02:30
This page has been accessed 15,359 times.