Talk:Main Page
If you guys have forum threads relating to Wiki pages don't be shy about adding a section at the bottom like:
===Related Forum Threads==

linking back to the forum threads on Neo.
[edit]
Integrating with Neoseeker profiles
Is it ok if I integrate the categories with all the PES titles as per this thread:
http://www.neoseeker.com/forums/39502/t1220305-introducing-integration-of-wiki-page-links-on-neoseeker-profiles/
I think it will bring some nice exposure to the PES pages.
Redemption 13:24, 23 August 2008 (UTC)
---
as the january window is coming close transfers are gonna be flying here there and everywhere and instead of editing the squad lists would it not be better to make separate tables for transfers In and transfers out for example
[edit]
Transfers In
| Pos. | No. | Name | Register from | Contract Type |
| --- | --- | --- | --- | --- |
| GK | 1 | Player 2 | Arsenal | Loan |
[edit]
Transfers Out
| Pos. | No. | Name | Register to | Contract Type |
| --- | --- | --- | --- | --- |
| GK | 1 | Player 2 | Arsenal | Loan |
yh thats a good idea, much easier Whelan 17:47, 3 December 2008 (UTC) only change it when a new game comes out
---
[edit]
New Staff Member
There is now a place for promotion in the wiki staff for PES as there are so much more pages we need more staff. Me and fellow staff member Whelan will be monitoring everyones edits in the next month or so and our decision should be reached by the new year, we already have a few members in mind so get editing!!!.--matt91 18:13, 17 December 2008 (UTC)
[edit]
Classic?
Should a player that appears in earlier games, but is now a classic (veron, batistuta) be categorised under player AND classic player, or just one or the other?
[edit]
A couple of things
Hey all. Just popping by to say a few things. First off, great job on the wiki so far. It looks great!
Second, just a couple of things I've noticed when browsing around:
There are quite a few "Image not available" images being used on player pages. For instances where you don't have an in-game picture, why not use a real-life picture until an in-game picture can be obtained? It gives off the general impression of laziness to newcomers when every three or four player pages they get a "Image not available." =P
When putting information about things like staff positions on the main page, please try to keep it current. Staff has been chosen by wiki admins via application since January, yet there was information on the main page sitting around about a staff position being open until just a few moments ago. We don't want to confuse people as things like that can change at any time, so do try to keep a closer eye on stuff like that in the future. =)
--Avalith 06:06, 19 August 2009 (UTC)
I was just wondering, how the hell do you guys get the time to do so much contributing? Benedict talk 17:57, 29 October 2009 (UTC)
Because we have no lives :P only joking, we don't spend that much time here. Whelan 09:15, 30 October 2009 (UTC)
[edit]
Fabregas
I don't think he really has the most in depth page anymore. What about Francesco Totti and Lionel Messi
Kaka's page is pretty detailed too. I would go for Messi though. Natman4
My opinion is not to use an overally known superstar such as Fabregas or Messi. The Andrea Dossena page is detailed enough, as is the Jeremy Mathieu. I'd like to see the Jesus Navas page get spotlighted, but if you are going into detail, I'd say the Carlos Tevez and Zlatan Ibrahimovic pages are the best. Matt91 14:16, 10 November 2009 (UTC)
I'v also changed the layout of the La Liga section and if anyone could be so kind to do them to the other leagues in the wiki. NB. It is probably best to use PNG images as they are of the best quality and can be reduced without losing quality. Matt91 14:17, 10 November 2009 (UTC)
[edit]
How can i delete a page?
Please help me . create two page about Milos Krasic one of thems name is Milos krasic. K is little i dont wanna this :(
Only Wiki Staff like myself can delete pages Whelan 16:09, 10 December 2009 (UTC)
hmmm ok dude thx ;)
If you want to can always make a redirect from the wrong page title to the right one using #REDIRECT [[Pagename]]. --Benedict
[edit]
Why is the header stretched?
Just wanted to know if you guys felt anything over this. I accidently clicked the image, and saw it looked odd. You can change it if you want, but I woulden't be too fussed about it. Just kinda makes me twitch is all. twitch twitch --Lyonnais 09:24, 31 January 2010 (UTC)
Are you sure? Oh well as long as it dosen't look stretched to the majority. :D --Lyonnais 11:59, 31 January 2010 (UTC)
[edit]
Great work on the Menu Dropdowns!
Those new menu dropdowns are REALLY useful: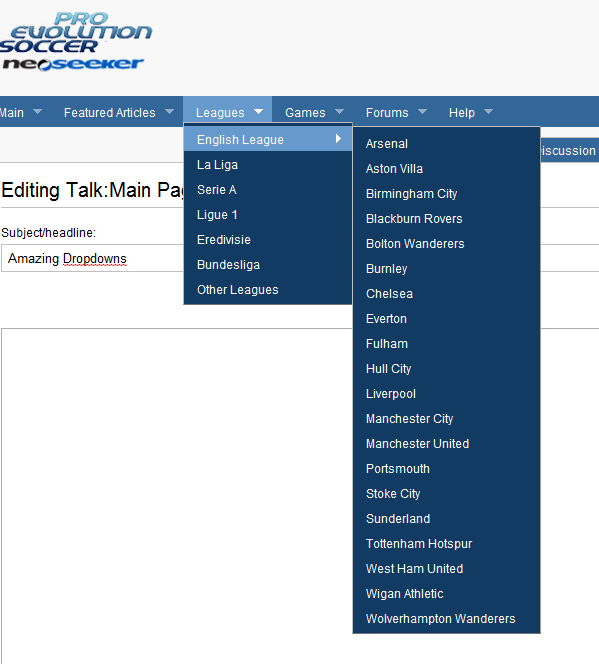 Just finished doing the rest of the teams too ... although they'll need to be changed again when there's the new season .... Whelan 10:27, 28 May 2010 (UTC)
[edit]
Main Page Layout
Hey guys, just suggesting, maybe you could widen the left part of the main page a little bit, it looks kind of squished imo Paradox 03:32, 1 July 2010 (UTC)
Sorry I don't have control over layouts, that's for higher authority, but I see what you mean, I could put a request in? --Whelan 09:45, 1 July 2010 (UTC)
I meant the long box on the left side, you can change it by just making the width longer or shorter and typing in a lower/higher number, haha. It just takes editing the main page. Paradox 01:12, 2 July 2010 (UTC)
Even so, I still don't know how to do it ... --Whelan 09:27, 2 July 2010 (UTC)
[edit]
About pes 2011 new teams Mrbaspor and Trunecan
i think one of them is Turkish league champion Bursaspor and the other Trabzonspor(same fake names with pes 2010)