Turkey
Turkey
Team Name
Turkey
Nickname(s)
Ay Yıldızlılar (The Crescent-Stars)
Stadium
Atatürk Olympic Stadium
İzmir Atatürk Stadium
Şükrü Saracoğlu Stadium
Manager
Fatih Terim
Captain
Arda Turan
Confederation
UEFA
Turkey are an average nation but do include quite a number of top quality players such as Arda Turan, Sabri Sarioglu, Nihat Kahveci, Emre Belozoglu and Tuncay Sanli. In Pro Evolution Soccer 2008 they were licensed for the first time. Their good Euro 2008 performance resulted in stat increases for many of their key players. Unlike many other nations, most of the Turkish players are widely known by their first names rather than their surnames.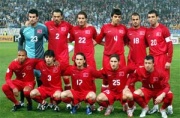 [edit]
PES 2010
The team squad has had a shake up but nothing too dramatic, the likes of Ayhan Akman, Nuri Sahin and Colin Kazim-Richards feature for the national team for the first time and the likes of Yildiray Basturk and Tumer Metin have been removed from the 23 man squad and all the players have preset faces. The nation also appear in the same home strip that was worn in PES 2009.
The squad still however features Rustu Recber who announced his retirement in the summer of 2008. He was called up for one World Cup qualifying game, but lost his place again, so much criticism has been called on this action.
Players that missed out on the squad list include, Fatih Tekke, Serkan Kirintili and Gokdeniz Karadeniz.
[edit]
PES 2018 Squad
Europe

·

·

·

·

·

·

·

·

·

·

·

·

·

·

·

·

·

·

·

·

·

·

·

·

·

·

·

·

·

·

·

·

·

Related Threads
Brazil - Germany / Korea - Turkey PREDICTIONS
- last post by
@ Jun 28, 2002
Last
edited
by
A_Kusanagi
on 9 January 2018 at 17:57
This page has been accessed 17,586 times.